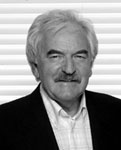 Picasso said that he painted not what he saw but what he thought. A cartoonist draws what he thinks is the truth. Mike Payne has an extraordinary gift of conveying those truths in a magical and often hilarious form. Having not only seen his work and admired it for some years, I have been privileged too to watch it in process, as his pen creates form from an idea, marvelling at his talent.

I once came up with an idea for a cartoon, which I mentioned to him. Of course there was no possibility of drawing it myself. In a short time Mike had produced a wonderful result from my thought and presented it to me. Each day I see it in my home. Every day I delight in it. I am in awe of his special skill. I might even envy it if he wasn't such a nice guy.
Des Lynam OBE
British television & radio broadcaster and presenter
It has always been an honour for me that Mike and I worked together at London Weekend Television on 'The Cloud Crowd.'

Who would have thought Mike Payne would have become one of the world's greatest cartoonists and illustrators?

Well, the answer is me, I knew he would from his earliest scribbles!! Nearly every household in the western world have celebrated something or other via a Mike Payne drawing or idea and I smile proudly when I think back to those early days of Thunderguts and other early characters. He is a distinctive artist, who stands alone with a style that is Mike Payne, a master of his trade and leader in his field.
Richard Digance
International comedian, guitarist, writer, artist and poet
Three of my Maxims are as follows:

'The Future is more important than the past, that Skill is Fundamental and that Creativity is Paramount'.

Being the son of a draughtsman, Mike Payne's Skill holds no bounds. His drawing combined with his Creativity never ceases to amuse. He is capable of producing new ideas whether sketching on the back of a napkin while entertaining his friends or professionally with his brilliant cartoons.

His moving story telling and drawings for children are some of the most charming that I have ever seen.
Stuart Devlin A..O., C.M.G.
By Appointment to Her Majesty the Queen, Goldsmith and Jeweller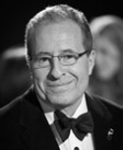 I love Mike Payne's work.

He draws brilliantly, and his cartoons are always vividly alive, with great caricatures and extremely clever humour.
Peter James
International bestselling British writer of crime fiction
I think the most striking thing about Mike Payne's work is the vibrancy, the colour and the immediacy. I think Mike has a huge talent to capture a face and break it down to the essence and his work just touches your heart immediately.

Mike's cartoons are extremely funny, his landscapes are breathtaking and very imaginative with a huge sense of life, a huge sense of atmosphere and mood. I'm enthralled with it all. I'm an amateur painter and I look at work of Mike's standard and am swept away and think "Good god I wish I could do this!
Tony Macaulay
Singer and songwriter and winner of nine Ivor Novello Awards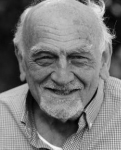 Mike's antennae twitch, the familiar words leap from his lips; "I feel a cartoon coming on…" and, lo and behold, in a flash it starts to take shape on the paper, napkin, menu – whatever's to hand. Executed swiftly and skilfully, the drawing is completed in what seems like seconds – funny, to the point, the characters always recognisable, the humour never wrapped in malice.

Quick on the draw, Mike Payne must be the fastest and funniest pen in the West (of Sussex).
Dick Knight
Past Chairman and Life President of Brighton & Hove Albion Football Club
The two talents that I most admire and that I would most like to be able to do are playing the piano and being able to draw. Mike Payne also greatly admires the former skill. As for the latter he is a cartoonist / illustrator equivalent of a grand master.
Jackie Unwin
Greetings Magazine