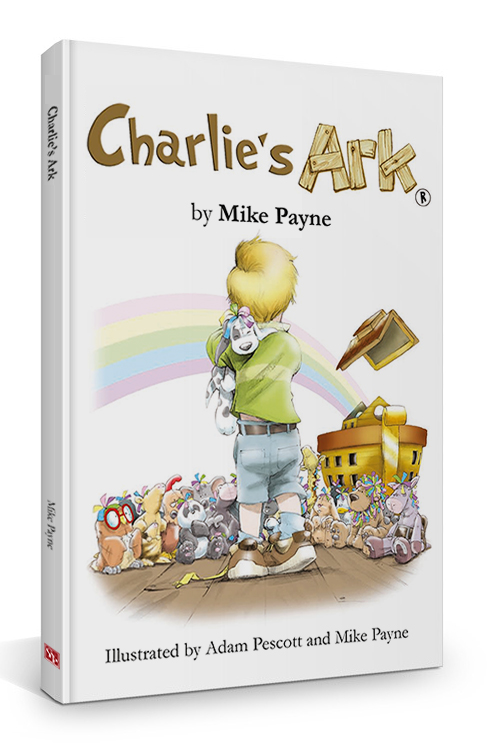 Hardback £14.95
Paperback £9.95
e-Book £3.99
Charlie's Ark is a collection of stories about a five year old boy and his toy box ark which contain many animals which magically come to life when he whispers a secret "Wordspell". Engaging, charming and a moral within every story together with beautiful illustrations, this book is a delight.
Created and written by award winning artist Mike Payne who is also the creator and original artist of the grey blue-nosed bear "Tatty Teddy".
Reviews
"Classics, children's classics in particular, endure because a child's soul inherently recognises a communion we adults only faintly remember. Story telling is an art. Story writing is a craft. What has been collectively accomplished here is the gem at the pinnacle of the creative crown – inspiration. May "Charlie's Ark" join the classics of yore to be loved by legions of children as yet unborn and generations beyond that. Magic has been created here."
Mary Jane, New Orleans USA
Two reviews from LoveReading 4 Kids
Charlie inherits a "Magic Ark" whose animals can come to life and talk – every child's dream! The stories are in rhyme, which is such a nice way to read to small children and each one is just long enough for a bedtime read. There is even a little moral and a wise word ending. The illustrations are charming and in all this book is an absolute delight.
'Charlie's Ark' written by Mike Payne, Illustrated by Adam Pescott and Mike Payne is a collection of stories following the events and adventures Charlie has with the magical new ark he's inherited from his grandmother. There's 24 different stories, all written in rhyme and based at different times of the year, making this a brilliant book to come back to again and again. Each poetic story has a soothing rhyme that would make this a great selection of bedtime stories. The soft pastel colours and the shorter length of each story also help to make this a brilliant bedtime read either for younger children to listen to, or older and more confident readers to read for themselves. Beautiful illustrations and beautiful stories. I think that this book will really appeal to young children.